From
Wikipedia: Drupal
on 02 Jan 2020:
Drupal /ˈdruːpəl/[5] is a free and open-source content management framework written in PHP and distributed under the GNU General Public License. Drupal provides a back-end framework for at least 2.3% of all websites worldwide – ranging from personal blogs to corporate, political, and government sites. Systems also use Drupal for knowledge management and for business collaboration.

As of December 2019, the Drupal community comprised more than 1.39 million members, including 117,000 users actively contributing, resulting in more than 44,000 free modules that extend and customize Drupal functionality, over 2,800 free themes that change the look and feel of Drupal, and at least 1,300 free distributions that allow users to quickly and easily set up a complex, use-specific Drupal in fewer steps.

The standard release of Drupal, known as Drupal core, contains basic features common to content management systems. These include user account registration and maintenance, menu management, RSS feeds, taxonomy, page layout customization, and system administration. The Drupal core installation can be used as a simple website, a single- or multi-user blog, an Internet forum, or a community website providing for user-generated content.
Webel IT Australia has employed Drupal™ CMS for more than a decade, and runs Drupal8 sites for clients in industry, engineering, science, government, and education, as well as community web sites.
It is difficult to get reliable hard numbers, but some people have made some brave attempts to measure or estimate Drupal's actual usage, and its popularity relative to other CMS systems.
One simple indication of the total number of Drupal sites is the number of report-back installs (usages reported from live sites with the
Updates Status
module on) -
which is only a subset of all installs
- available under
Usage statistics for Drupal core
, which on 06 Jan 2020 gave 1,049,268 (over 1 million) over all versions.
There is a live pie/line graph system on Built With: Web Technology Trends under Content Management System, which enables you to generate stats for various CMS systems including Drupal for the world's top 10K sites, top 100K sites, top 1M sites, and the all CMS sites. As of 08 Jan 2020 they show that Drupal runs about 10.08% of the world's top 10K sites (and about 2.67% of the top 1 Million sites):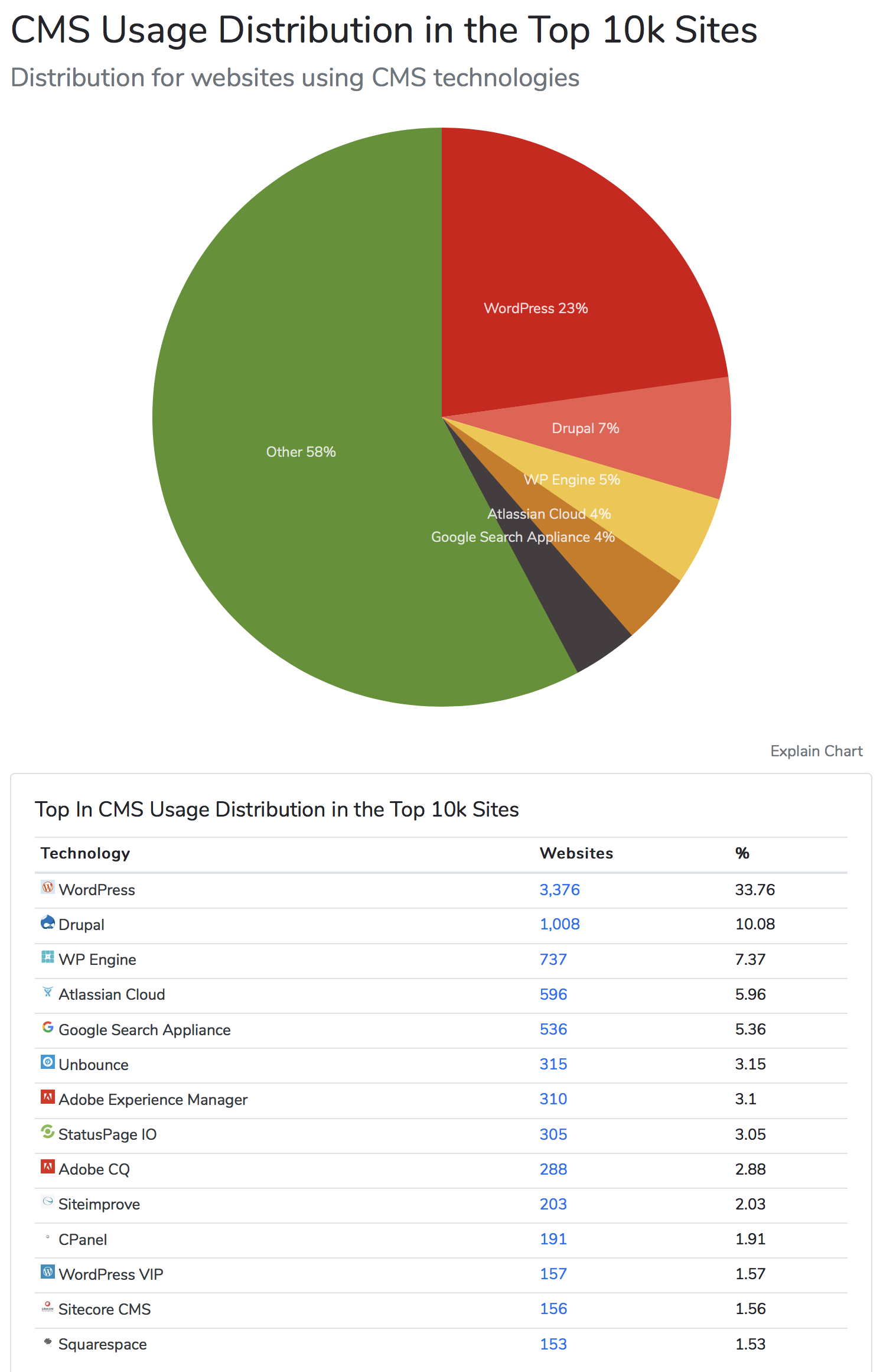 In any case, it is clear that - given that the blog-born WordPress is in some respects a victim of its own success that has out-grown its initial intention, and has many significant limitations compared with Drupal for more demanding web sites (think for example of the incredible power of the Drupal Views query and reporting system, which WordPress can't even touch) - Drupal is currently the world's leading truly powerful and flexible CMS web site system !
Notes
Relevant snippets (from other sources)
External links
Flags